Transform your customers into strategic partners. Fundamentally evolve your business.
In times like these, many leaders are looking within their companies for answers to the many challenges they face. They spend more time defending the status quo rather than questioning it. As a result, they deprive themselves of the most valuable resource in their decision-making, their customers.
iQuandA reinvents your customer relationship by transforming your customers into strategic partners. In these turbulent times of rapid and unpredictable change, no force is more entrenched and stabilizing than a partnership with a customer. Strong partnerships with customers are essential for making the right decisions to build a successful business.
iQuandA accomplishes your objectives with you
The iQuandA impact
Validate your strategy
Define new axes
Obtain forward-looking information
Hit the roadmap with your goals in mind
Adopt a revolutionary stance
Create your own blue ocean
Present your activity
Reinforce your image
Building Stronger Ties
Create synergies of knowledge, trust, and adaptability with your customers
Identify the appetite for innovation and reposition yourself
Test ideas
Seek breakthroughs while continuing to build your core business
Find inspiration from atypical sources
Be inspired by the client
Experiment with new initiatives
Evaluate its pricing policy and leeway
Revalorize prices
Develop a smarter pricing strategy
Continuously evaluate and adjust pricing based on performance
Achieve additional sales
Test new services
Qualify the business relationship
Assess the competition
Promote new products
Carry out a global and customer-specific sales action plan
Validate decision frameworks
Evaluate perceived quality
Identify areas for improvement
Carry out a continuous improvement process
Ensure that customers are satisfied with the result
Valuing work
Acknowledge the work done
Sharing strategic decision-making
Build a culture of engagement
Improve transparency with employees
Improve understanding of client needs
Encourage employee innovation
Build stronger relationships between your team and your customers
Anticipate human resource needs
Quantify export performance
Identify new markets
Understand how the market is different
Building a solid strategy to get the best results
Be inspired by other markets to influence your overall strategy
Think & Lead Differently !
Understanding the business
Challenge the status quo
Discover expectations
Change the culture of the company
Identify high value strategic partners
Listen Loudly !
Investigate your client's environment
Change customer mentality
Actively express interest in your customers to create bonds on which a strong relationship can be built
Begin to develop a common mission and vision
Read Between the Lines!
Synthesize the results
Enrich the reflection
Think out of the box
Identify partners with real value potential
Maximize the iQuandA impact
Act with Agility !
Prioritize the opportunities
Act on those of greatest value
Measure and communicate results to your strategic partners
Nurture. Sustain. Capitalise
Maintain a strong relationship by proactively staying in touch
Develop shared strategy for the future growth of the relationship
Quantify business results to encourage growth in a mutually beneficial manner
Pierre CLEAU - Frédéric GREVAUD, Co-Founder, AUVALIE INNOVATION GROUP
Our client
« Au sein de l'équipe AUVALIE Innovation, iQuandA permet de concrétiser notre volonté de rapprochement régulier avec nos clients. L' écoute de nos clients, menée avec professionnalisme, a été riche d'enseignements pour notre activité future et notre relation client. En interne, comme en externe, le caractère structurant d'une telle démarche fait consensus. Merci à l'équipe iQuandA. »
Their clients
« C'est très bien d'objectiver les attentes clients, ça montre une volonté de s'améliorer et de tester »
« Très intéressant, En discutant des idées sont venues »
« Constructif, montre une envie de répondre à ses clients et d'imaginer la suite avec eux"
"Donne une très bonne image d'Auvalie, ça fait toujours plaisir de travailler avec des gens qui cherchent à écouter leurs clients et à s'améliorer »
"Je connais desormais mieux ce qu'il propose en terme de service"
Xavier PHILIBERT, Business Manager The Vinci group, SOFRADEN
Our client
"The iQuandA roadmap has enabled us to motivate all our sales forces towards a common goal.
As for the results, they exceeded our expectations because, in addition to obtaining crucial and neutral information about what our customers think of us, the approach enabled them to see our continuous progress approach in concrete terms.
The detailed insight of the feedback we have received is also of great help to us in imagining new value propositions and in supporting or reorienting certain strategic directions.
Finally, the results of this investigation were also used internally to re-explain the rationale and reasons for our positioning.
In short, a structured and efficient action that will be of great help in our development."
Their clients
"A thorough discussion. The exchange was in-depth on a wide variety of subjects. Very interesting "
"Very complete study"
"This is an interesting approach, it demonstrates Sofraden's commitment to progress."
"We look forward to the action plan."
"Qualitative approach"
Christophe GALY, CEO&Founder, GAYA Conseil
Our client
" To be honest, I had not thought that listening to my client could be so valuable in such a short term !
The approach proposed by iQuandA is clear, structured and was carried out with great professionalism.
It gave my clients a very professional image of my company and allowed me to quickly develop my offer.
The proof? One month after the completion of my first iQuandA Foundations, and thanks to the ideas identified with Benjamin and Jean-Christophe, I signed the most important contract GAYA Consulting has ever had ! "
Their clients
"It is an excellent approach, very interesting, I appreciate the fact that he is objectifying the pertinence and the quality of his services."
"Participating in this process reinforces your motivation to continue with GAYA Consulting."
"A very professional and positive approach to client relations."
"The focus is on listening, listening and listening to my needs."
Cyril PICARD, Director of ERP Huissier, SOFT OUEST & DATA AUTOMATION IT services company
Our client
"This process has allowed me to perceive customer expectations in an organized and "authentic" way. The observations are digested, assembled, and presented from a strategic perspective by iQuandA.
It provided direction for the company's strategic plan by identifying areas for improvement and development.
iQuandA lays out a range of strategic opportunities based on the customer's perceptions of its own future and its perception of its supplier. »
Their clients
"It strengthens their credibility"
"I don't know of any other company that does this."
"Beautiful openness and great professionalism"
"Highly relevant approach"
"It taught me a lot and opened my mind to a real partnership."
"In the end, the discussion was useful for me too, I thought it was just for them"
"Great first step, now you need an action plan."
Anne-Sophie VERET, Executive Director,
SOL SOLUTION
We turned to iQuandA to better understand our customers' expectations and take the time to listen to them. Naturally, we were under the impression we were already doing this, and well! However, thanks to iQuandA, we discovered very thoroughly what our customers thought about us: their expectations, tomorrow's challenges, where we have failed and succeeded. A 360° positioning by our customers and in complete objectivity. This in-depth and vigorous work allowed us to refocus on our customers and place them in the heart of our process. The added value of this mission is also to have created an internal energy to work on our strengths and erase our weaknesses! Very rewarding and highly recommended to challenge your status quo!
Fabrice CLEMENCON, groupe AEROPLAST GROUP, Juillet 2021
Nous avons travaillé avec IQuanda et notamment Benjamin FOURNEL dans le cadre d'écoutes clients. En effet, soucieux de faire progresser notre organisation mais dans le doute quant à nos axes de progrès, nous avons fait appel à Benjamin et son équipe afin de nous éclairer. Leur approche pragmatique et accessible a à la fois conquis nos équipes et nos clients, qui nous ont pour la plupart remercié pour les avoir fait participer à la démarche. Concrètement, nous avons structuré différemment nos organisations à la suite des écoutes, et ciblé précisément nos opportunités de progrès et facteurs différenciants. Les premiers résultats eux aussi n'ont pas tardé à se concrétiser !
Eric BONNEAU, CEO de EASINNOV, Août 2021
Waouh ! Jamais je n'aurais pensé avoir un retour aussi riche ! Je suis amené à réaliser des écoutes des clients de mes clients et je sais l'apport que cela peut avoir pour ces derniers. iQuanda va plus loin et m'a proposé une analyse en profondeur des signaux faibles pour aboutir à des propositions d'améliorations, de focalisation et des pistes de développement de nouvelles offres. Le sérieux de la démarche et la qualité du consultant ont contribué à renvoyer à mes clients une image très positive de ma société. Merci à Benjamin et à Jean-Christophe pour leur professionnalisme !
OUR TEAM
iQuandA is the coming together of 6 entrepreneurs with different backgrounds who share a common vision
Jean-Christophe Champier
Performance facilitator
Kyle Goodsir
Australian efficiency
Michel Richard
Human developper
Benjamin Fournel
The Postman
He always delivers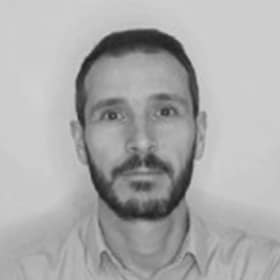 Christophe Rosenthal
Président iQuandA Bourgogne Franche Comte
Grégory Clavé
Président iQuandA Sud Ouest